Alumni in Action: Toni Igbenoba, Compliance and Ethics Associate Counsel at Upwork
April 8 @ 7:00 PM

-

9:00 PM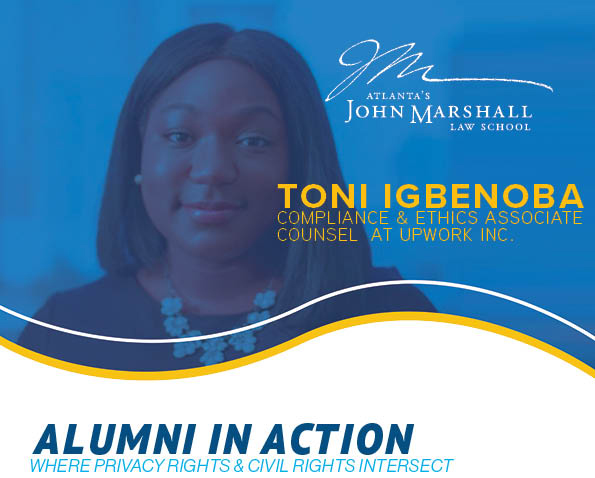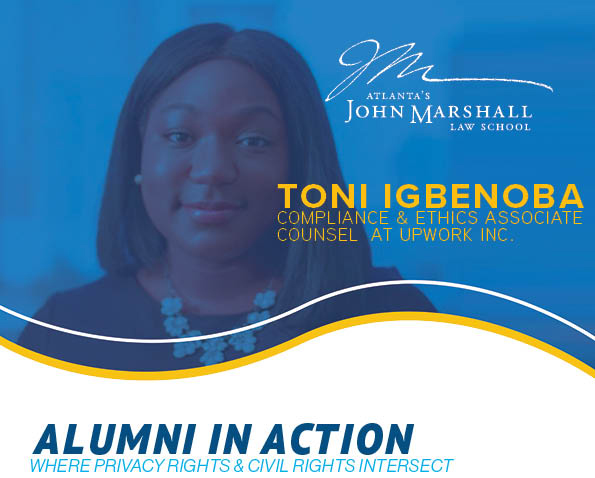 Please join us as we present to some and introduce to others, Alumna, Toni Igbenoba, a 2017 Atlanta's John Marshall Law school graduate. Currently, Toni is the Compliance & Ethics Associate Counsel at Upwork Inc. where she helps develop and refine Upwork's data privacy, data ethics, and anti-money laundering law compliance programs. She is a Certified Information Privacy Professional (CIPP/US) and a Certified Information Privacy Manager (CIPM).
Prior, Toni worked at Ernest & Young where she advised Fortune 100 companies on complex data privacy initiatives and issues, including domestic and international privacy law compliance, privacy by design, privacy program governance, privacy program assessment, and data breach response. Her experience spans multiple industries, including technology, communications, finance and manufacturing.
Toni will be speaking with the AJMLS community regarding, "Where Privacy Rights and Civil Rights Intersect" on Thursday, April 8, 2021 at 7 pm. Please register to join the virtual presentation by clicking the link here. For questions, please email Angela Sumpter at asumpter@johnmarshall.edu. We look forward to seeing you there!