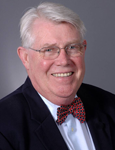 Education
B.S., Mississippi State University
M.A.T., Mississippi State University
J.D., University of Georgia School of Law
Courses Taught
Advanced Criminal Procedure; Advanced Evidence; Criminal Law; Criminal Procedure; Evidence
Career Highlights
Professor Mears served for over 15 years as a criminal defense attorney before joining the John Marshall faculty in 2007. His practice was dedicated to indigent defense, and he served as lead counsel in over sixty death penalty trial and appellate cases since 1984. Professor Mears was appointed as Director of the Georgia Public Defender Standards Council in 2004, and served from 1992 to 2003 as a Multi-County Public Defender for the Georgia Indigent Defense Council. Prior to entering his public defender practice, Professor Mears was the Partner-in-Charge of Litigation at McCurdy & Candler, a firm specializing in civil and banking law. In 2007, he was appointed as Co-Chair of the State Bar of Georgia's Indigent Defense Committee and as a member of the Post-Conviction Capital Representation Committee.
Publications
"The Georgia Death penalty: A Need for Racial Justice," John Marshall Law Journal, Volume 1, 2008.
"The Challenge of Fingerprint Comparison Opinions in the Defense of a Criminally Charged Client," Georgia State University Law Review, Volume 19, Number 3, Spring 2003.
"Seeking Sanctuary: Interviews with Family Members of Capital Defendants," (Co-Authored with Elizabeth Beck, Ph.D., Brenda Sims Blackwell, Ph.D., Pamela Blume Leonard, B.S.), Cornell Law Review, Volume 88, Number 2, January 2003.
"Death Penalty Law," Mercer Law Review, Volume 54, Fall 2002, Number 1.
"Representing the Unpopular Client After September 11th," Georgia Bar Journal, Volume 7, Number 5, April 2002.