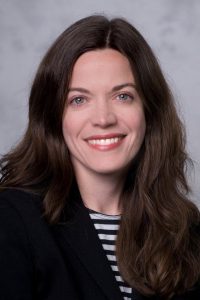 Nancy E. Millar
nmillar@johnmarshall.edu
Education
B.S., Syracuse University
J.D., University of Miami School of Law, magna cum laude
Courses Taught
Legal Communication and Process; Legal Writing, Research & Analysis; Professional Responsibility
Career Highlights
Professor Millar joined Atlanta's John Marshall Law School in 2016. Previously, she worked in the Capital Habeas Unit of the Office of the Federal Public Defender in Phoenix, Arizona, where she represented clients on Arizona's death row.
Before joining the Federal Public Defender, Professor Millar taught legal writing, criminal law, ethics, international human rights, and other courses at Arizona Summit Law School for four years. During her time on the faculty, she was a member of various Legal Writing Institute committees, served as an Assistant Editor for Legal Writing: The Journal of the Legal Writing Institute, and mentored numerous students in formal and informal capacities. Most recently, she was a Deputy Editor for The Year in Review, published by the American Bar Association's Section of International Law and Practice.
Prior to joining Arizona Summit, Professor Millar was a Staff Attorney at the United States Court of Appeals for the Eleventh Circuit here in Atlanta. Her work for the Court involved the review of appeals in civil and criminal cases, though she specialized in substantive motions filed in habeas cases. Professor Millar also volunteered with the Partnership Against Domestic Violence and the Fulton County District Attorney's Teen Court Program.
Admitted to Practice
Pennsylvania
Publications
Professor Millar's research interests include women's rights, international and comparative law, capital punishment, and criminal law. She is the author of Envisioning a U.S. Government that Isn't 84% Male: What the United States Can Learn from Sweden, Rwanda, Burundi, and Other Nations, 62 U. Miami L. Rev. 129 (2007). She has presented research at workshops at Georgia State University College of Law, Emory University School of Law, and Arizona State University Sandra Day O'Connor College of Law, among others. She was honored to present at the 2015 Igniting Law Teaching conference in Washington, D.C., which recognized innovation in law teaching.
Outside the Classroom
During law school, Professor Millar interned in The Hague with Judge Fausto Pocar, then president of the International Criminal Tribunal for the Former Yugoslavia and a judge on the Appeals Chamber for the International Criminal Tribunal for Rwanda. Professor Millar also interned with the Caribbean Regional Headquarters of the United Nations Entity for Gender Equality and the Empowerment of Women (UN Women) in Barbados. Additionally, she was an Articles & Comments Editor for the Miami Law Review, earned membership in the Order of the Coif, and sat on the national Board of Directors of Law Students for Reproductive Justice.
Before attending law school, Professor Millar spent ten years working as a journalist. She also served on the Board of Directors of the New York City Chapter of the National Organization for Women from 1997 to 2005. She was President of the organization from 2000 to 2002, and in 2004 she received the Susan B. Anthony Award for grassroots feminist organizing.
In her spare time, Professor Millar enjoys doing yoga, traveling, being outdoors, and spending time with her two young children.