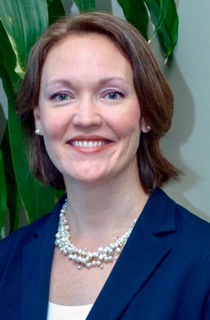 Heather Ryfa
Legal Research and Writing Professional
hryfa@johnmarshall.edu
Education
B.A., University of Georgia, cum laude
J.D, Georgetown University Law Center, cum laude
Career Highlights
Professor Ryfa most recently practiced at a small firm with a focus on business law, tax appeals, probate, estate planning, local and municipal law, and related litigation. She represented businesses in many types of litigation, such as shareholder disputes, contract disputes, and tax appeals, as well as advising businesses on contract matters, sales, mergers, and other corporate issues. She also assisted individual clients with probate and estate planning matters.  Additionally, she served as Solicitor for the City of Chattahoochee Hills in municipal court.
Professor Ryfa previously served as an Assistant Attorney General representing the Georgia Department of Revenue for six years. Among the cases where she served as lead counsel were a $5 million dollar refund action, which she successfully resolved on summary judgment, and a bad debt deduction assessment, in which she negotiated an $11 million dollar settlement. She also provided advice to counties and municipalities on SPLOST taxes and a variety of other tax issues.  Prior to joining the firm, she represented Georgia in the field of consumer protection, where she investigated and prosecuted violations of Georgia's Fair Business Practices Act.
Professor Ryfa graduated cum laude from Georgetown University Law Center in 2003 and obtained her undergraduate degree in political science from the University of Georgia. She began her career as a staff attorney for the Eleventh Circuit Court of Appeals, and she is admitted to practice before that court, as well as the U.S. Supreme Court, the Northern District of Georgia, and all Georgia courts.
Outside the classroom, Professor Ryfa is an avid equestrian and enjoys participating in shows and foxhunting. She also has two boys, ages 9 and 7.
Admitted to Practice
Georgia (2003)