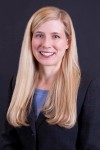 Education
B.S., Georgia Institute of Technology, with highest honors
J.D., University of Georgia School of Law, summa cum laude
Courses Taught
Intellectual Property; Patent Law; Torts
Career Highlights
Professor Mullally joined the John Marshall faculty in 2009 after serving as an Assistant Professor at the University of Maryland School of Law and a Visiting Assistant Professor at the University of Georgia School of Law. A registered patent attorney, Professor Mullally previously practiced law with the firm of Finnegan, Henderson, Farabow, Garrett & Dunner, where she specialized in appellate litigation of intellectual property matters and represented clients in wide ranging areas of technology, including the pharmaceutical, electrical, mechanical, and chemical fields. During law school, Professor Mullally served on the editorial and managing boards of the Georgia Law Review and was inducted into the Order of the Coif, graduating first in her class. Professor Mullally clerked for Judge J.L. Edmonson of the U.S. Court of Appeals for the Eleventh Circuit and for Judge William C. Bryson of the U.S. Court of Appeals for the Federal Circuit.
Publications
Blocking Copyrights Revisited, 37 Colum. J.L. & Arts 57 (2013)
Post-MedImmune Burden of Proof in Declaratory Judgment Actions, 41 Preview of U.S. Sup. Ct. Cas. 78 (2013)
Legal (Un)certainty, Legal Process, and Patent Law, 43 Loy. L.A. L. Rev. 1109 (2010).
The New Private Ordering of Intellectual Property: The Emergence of Contracts as the Drivers of Intellectual Property Rights, MedImmune v. Genentec, 4 J. Bus. & Tech. L. 59 (2009) (with Gregory Castanias and Franklin E. Gibbs).
Patent Hermeneutics: Form and Substance in Claim Construction, 59 Fla. L. Rev. 333 (2007).
Comment, Exxon Chemical Patents, Inc. v. Lubrizol Corp.:  The Federal Circuit Sets Unreasonable Standards for Chemical Composition Inventions, 31 Ga. L. Rev. 1223 (1997).