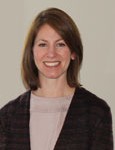 Education
B.A., University of Texas at Austin, magna cum laude, Phi Beta Kappa
J.D., Georgia State University of Law, cum laude
Courses Taught
Business Organizations; Torts
Career Highlights
Professor Apolinsky worked as corporate counsel at Georgia-Pacific Corporation from 1999 until 2004, where she focused on finance and corporate law. Prior to joining Georgia-Pacific, she was an associate at King & Spalding LLP in Atlanta, where she specialized in public finance. Professor Apolinsky joined the John Marshall Law School faculty in 2004.
Publications
Insider Trading as Misfeasance:  The Yielding of the Fiduciary Requirement, 59 Univ. Ks. L. Rev. 493 (2011).
Rethinking Liability for Vaccine Injury, 19 Cornell J.L. & Pub. Pol'y 537 (with Professor Jeffrey A. Van Detta).
Is There Any Viability to Scheme Liability for Secondary Actors after Stoneridge Investment Partners, LLC v. Scientific-Atlanta, Inc.?, 58 Cath. U. L. Rev. 411 (2009).
Joanna B. Bossin, Comment, What Constitutes Minimum Contacts after CompuServe v. Patterson:  Are New Rules Necessary for a New Regime?, 13 Ga. St. U. L. Rev. 521 (1997).
The Boundaries of Fraud Under the Insider Trading Rules, Fl. St. U. Bus. Rev., forthcoming Spring 2014.