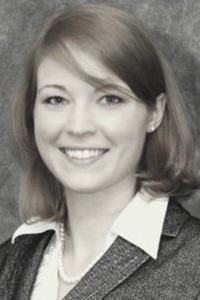 Danielle Hildebrand
Adjunct Professor
dhildebrand@johnmarshall.edu
Education
M.S.H.A., Georgia State University Robinson College of Business
J.D., Georgia State University College of Law, Magna Cum Laude
B.A., University of Notre Dame
Courses Taught
Health Care Law
Career Highlights
Professor Hildebrand provides legal services to a wide variety of healthcare providers with an emphasis on healthcare transactional and regulatory matters.
Prior to joining Jeyaram & Associates, she worked on Affordable Care Act implementation matters at the Centers for Disease Control and Prevention (CDC) and she represented healthcare clients on transactional and regulatory matters as an associate attorney with a private law practice west of Atlanta. Hildebrand also brings expertise on issues involving Program Integrity and RAC. Further, she has extensive experience with DBHDD and DCH matters.
Professor Hildebrand graduated in the top 10% of her law class and was on the Executive Board of the Georgia State Law Review. While in law school, Hildebrand clerked for Administrative Law Judge Timothy Hagan at the EEOC, interned at the Department of Health and Human Services Office of General Counsel, and served as a Student Legal Intern in the Health Law Partnership Legal Services Clinic. She also served as the Vice President of the Student Health Law Association and was a Graduate Research Assistant for Professors Nancy Mansfield and Pamela Brennan.
Professor Hildebrand's Legal expertise includes:
Regulatory Compliance – Privacy and Security Rules (HIPAA), Fraud and Abuse Law (Stark Law & Anti-kickback statute)
Regulatory matters involving the Departments of Community Health (DCH) and Behavioral Health and Developmental Disabilities (BHDD)
Affordable Care Act implementation
501(c)(3) exemption issues
Entity Formation
Physician Contracts
Service Agreements
Medicaid and Medicare Reimbursement issues
Admitted to Practice
Georgia