Calendar
Nov
5
Wed
Mass Swearing In Ceremony for July 2014 Bar Exam Passers

@ Jewish Federation of Greater Atlanta
Nov 5 @ 6:00 pm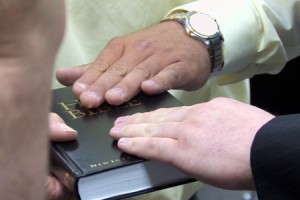 UPDATE: Thank you to everyone who submitted their paperwork by the court's deadline. The Alumni Office is not able to accept late paperwork as the deadline is set by the court, not the law school. To be sworn-in at your own convenience, please refer to the Georgia Bar website.
The Alumni Office will hold a mass swearing in ceremony for the July 2014  bar exam passers and any other AJMLS alumni who would like to be sworn into the Supreme Court of Georgia. We will be honored by Justice Carol Hunstein of the Supreme Court and Judge T. Jackson Bedford of the Fulton County Superior Court. 

The ceremony will be held at 6:00 p.m. on November 5, 2014 at the Jewish Federation of Greater Atlanta, located across Spring Street from the law school. After the ceremony there will be a reception with light hors d'oeuvres. Students, faculty, staff and alumni are welcome to attend invite with friends and family.
For those participating in the swearing in ceremony, please plan to arrive at 5:30 p.m. to arrange the necessary paperwork. In order to be sworn in to any or all of the courts, you must have ALL paperwork into the Alumni Office no later than Thursday, October 30, 2014. For admission to the Superior Court, the Alumni Office will need the Original Certificate you received from the Georgia Bar Admissions. There is no fee or other paperwork associated with this court. For the attorney admission form for the Supreme Court, please go to: http://www.gasupreme.us/admissions/ and complete the application but be sure to leave the Bar Number blank. The law school will provide the sponsoring attorneys so please leave that portion blank. The cost to be sworn into the Georgia Supreme Court is $30 and must be paid through the website. Please attach a copy of your PayPal receipt with your application. 

Parking will be available in the John Marshall parking deck and Jewish Federation lot.Please contact Alumni Director, Virginia Arnold at varnold@johnmarshall.edu or call (404) 872-3593 ext. 287 with additional questions.