Purpose
The purpose of the Moot Court Board is to promote and supervise all designated Moot Court sponsored competitions and to provide opportunities for students to develop their writing and oral advocacy skill sets to better prepare the Moot Court Board to represent AJMLS in competitions. To accomplish this purpose, the Board shall promote a close, working relationship with its members, the AJMLS student body, participating alumni, Faculty Advisor, and the local bar.
Membership
All full-time and part-time students enrolled at AJMLS with a cumulative GPA of 2.5 are eligible for admission to Moot Court. A student may receive an invitation to the organization by successfully competing through the G. Alan Blackburn Moot Court Competition or the Richardson Lynn Moot Court Competition, which is the intra-school competition held before the start of the Fall semester.
Judge Blackburn is an AJMLS graduate (1968) and served 17 years on the Georgia Court of Appeals including two years as Chief Judge. Dean Emeritus Richardson Lynn served as Dean of AJMLS for eight years, retiring in the summer of 2014.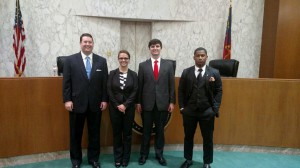 2015 Finalists for the G. Alan Blackburn Moot Court Competition, pictured left:
Robert Rentfrow- Best Appellee Oralist and Best Appellee Brief
Sierra Vollrath- Best Appellant Oralist and Best Appellant Brief
Zachary Moore- Runner-up Best Appellee Oralist
John Rose- Runner-up Best Appellant Oralist
Executive Board 2014 – 2015
Chair: Kimberly Stahl
Vice Co-Chair: Mathis Wilkens
Vice Co-Chair: Daniel Ybanez
Faculty Advisor: Suparna Malempati
Alumni Coaches: Michael Bauer, Jason McLendon, Ben Stidham, and LoriBeth Westbrook
Board Members 2014 – 2015
December 2014 Graduates:
Stephanie Garner, Nickolas Kitchens, Samuel Radin, Uchenna Uzoka, Mathis Wilkins, and Daniel Ybanez
May 2015 Graduates:
Chantiel Bell, Rodrigo Silvo, and Kimberly Stahl
December 2015 Graduates:
Amber Reed
May 2016 Graduates:
Michael Barrett, Antoinette Clarington, Spencer Fredericks, Stephanie Housefield, Homer Jordan, Ellakisha O'Kelley, Anthony Showell, Samantha Trippedo, and Shawntae Woodhouse
May 2017 Graduates:
Annie Mulligan, Abigail Potter, Tracey Watson, and Shawnta Williams, Sierra Vollrath, Zachary Moore, John Rose, Sadia Ali, Anna Wyatt, Michael Russ, Jessica Gomez
May 2018 Graduate:
Robert Rentfrow
2014 – 2015 Competition Teams
Stetson National Pre-Trial (Fall)
Team: Michael Barrett, Stephanie Housefield, Mathis Wilkens, and Daniel Ybanez
Alumni Coaches: Jason McLendon and LoriBeth Westbrook
New York Bar (Fall)
Team: Homer Jordan and Kimberly Stahl
Alumni Coach: Michael Bauer
Mercer (Fall)
Team 1: Antoinette Clarington, Amber Reed, and Shawnta Williams
Team 2: Abigail Potter, Samantha Trippedo, and Chantiel Bell
Alumni Coaches: Michael Bauer and Ben Stidham
Spring Competitions
TBA
John Marshall Moot Court Archives
To review historic information on previous academic years, please visit our AJMLS Moot Court Archives
John Marshall Moot Court Competition
To access the 2015 Georgia Intrastate Moot Court Competition (March 27, 2015 – March 28, 2015) digital brochure please click here.