John Marshall Law Journal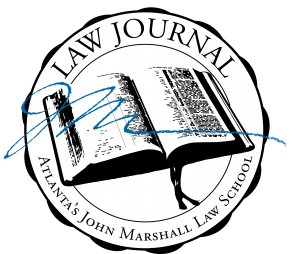 The John Marshall Law Journal is a semi-annual, legal periodical published at the conclusion of each fall and spring semester.  Second and third year full-time students and third and fourth year part-time students staff the Journal.  Students receive invitations to join the Journal based on their academic success and writing skills.  The Journal provides each member additional educational opportunities by promoting excellence in research, writing, and analytical skills.
Both the Fall and Spring issues are comprised of three sections including Articles, Notes and Comments, and Legislative Summaries.  The Fall issue featured commentary on a variety of relevant subjects while the Spring issue focuses on a single, timely area of Georgia law. Journal staff members work cooperatively with authors to further the Journal's mission by creating, editing, and publishing each issue.
The John Marshall Law Journal's mission is to serve as an informative resource to Georgia's legal community by focusing each issue of the Journal on areas of law that have a direct impact on the state and the nation.  In the Spring, the Journal hosts a Symposium, at which authors of the published pieces in the Spring issue, as well as panelists, and attendees, examine recent and pending legislation, significant court decisions, student commentary, and contributions by preeminent Georgia scholars and practitioners.
2015-2016 EXECUTIVE EDITORIAL BOARD
EDITOR-IN-CHIEF
Antoinette S. Clarington
asclarington@johnmarshall.edu
MANAGING EDITOR
Ken Davis
kwdavis@johnmarshall.edu
EXECUTIVE ARTICLES EDITOR
Kelly Morton
klmorton@johnmarshall.edu
Rachel Roberts
rnroberts@johnmarshall.edu
Jamie St. Eve
jlsteve@johnmarshall.edu
EXECUTIVE COMMENTS EDITOR
Jasmine Barber
jnbarber@johnmarshall.edu
EXECUTIVE LEGISLATIVE EDITOR
Leanna Wade
lgwade@johnmarshall.edu
SYMPOSIUM CO-CHAIRS
2015-2016 STAFF MEMBERS
Callie Adams
Sadia Ali
Walter Anderson Jr.
Michael Barrett
Kimberley Childs
Dakini Fields
Travis Foreman
Siohvaughn Funches-Wade
Isaiah Gregory
Kiera Harvey
Brian Heflin
LaTonya Hughes
Nathalie Kanani
Aklima Khondoker
Glenda Mitchell
Tara Murscoe
Nam Nguyen
John Padesky
Sharon Payne
Brandy Porter
Liliana Ramirez
Amber Reed
Shana Scott
Katryna Spearman
Tangelita Taylor
Tyler Watkins
Victoria Wheeler
David Wilson
Michael Wynter